Gender
87.5% ♂ / 12.5% ♀
Weight
Height
51.8 lbs
23.5kg
3'03"
1.0m
Pokédex Color
Egg Group
Pink
—
Body Style
Footprint
Cry
Sylveon (Japanese: ニンフィア Ninfia) is a Fairy-type Pokémon and also an evolution of Eevee. It can be bred by an Eevee and another Pokémon.
PhysiologyEdit
Sylveon is a Pokémon with cream colored fur on most of its slender body and a reddish tail. There are two bow shaped and scarf-like objects around its body. It has four legs, each one a pink color - like the tail - and three toes on each. It also has two large blue eyes and long pink ears.
Game dataEdit
Game locationsEdit
Sylveon Locations
Version(s)
Location
Rarity
X/Y
Evolve Eevee
None
Pokédex EntriesEdit
Pokédex Entries
X
It sends a soothing aura from its ribbonlike feelers to calm fights.
Y
It wraps its ribbonlike feelers around the arm of its beloved Trainer and walks with him or her.
3D ModelsEdit
Version
X
Y
Back
AppearancesEdit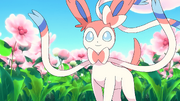 Sylveon appears in the short film PK25.
Sylveon appears in the Pokemon TCG: Sylveon Colection as a promo card (XY 04) & a collectible figure.
This is the eighth Pokémon revealed that evolves from Eevee.
It is the lightest Eeveelution.
Sylveon's classification of species as an "Intertwining Pokémon" is almost the same as the red thread that holds two or more person's relationship. Hence, its ribbons serves the same purpose. Based on its Pokémon X's PokéDex's data, it uses its "ribbons" to create peace amongst fighters and serves as their 'mediator'.