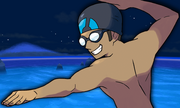 Swimmer is a Trainer Class introduced in Generation I that specialize in using Water-type Pokémon. They are young men and women wearing swimsuits and are always found swimming in a body of water.
Sprites
RB Battle Sprite




GSC Male Battle Sprite




GSC Female Battle Sprite




RSE Male Battle Sprite




RSE Female Battle Sprite

FRLG Male Sprite




FRLG Female Sprite




DPPt Male Sprite




DPPt Female Sprite




HGSS Male Sprite

HGSS Female Sprite




BW Male Battle Sprite




BW Female Battle Sprite
Trivia
All male swimmers wear goggles and swim caps.
All female swimmers were called Bikini Ladies in the Japanese versions.
In the international releases of Diamond and Pearl, Platinum and HeartGold and SoulSilver, male swimmers had their speedos, which is only present in the Japanese version, replaced with swim-trunks.
In Black and White, a female swimmer asked, "Are you here to see Cynthia in a swim- suit?"
It's also possibility, that the male swimmer is actually based for similar looking character from 1989 Nintendo Entertainment System game Mendel Palace /Quinty, which was also developed by Game Freak, Inc.
Ad blocker interference detected!
Wikia is a free-to-use site that makes money from advertising. We have a modified experience for viewers using ad blockers

Wikia is not accessible if you've made further modifications. Remove the custom ad blocker rule(s) and the page will load as expected.