The Suite Key is an obtainable key item featured within Diamond, Pearl, and Platinum. 
File:Suite Key Sprite.png
Descriptions
A key to one of the suites at the luxury hotel by a lake. For some odd reason, it often disappears.
Obtained
Pokémon Diamond/Pearl/Platinum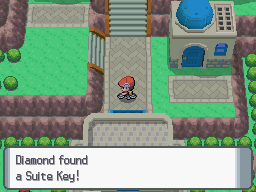 Uses
A woman at Valor Lakefront lost this key and yearns to have it back. The player has the ability to return it to her.