This article or section requires a cleanup in order to meet
the Pokémon Wiki's quality standards.
Reason: Unknown
Please consider editing this page to improve it.
Suite Key is an key item in Diamond, Pearl and Platinum.
Descriptions
A key to one of the suites at the luxury hotel by a lake. For some odd reason, it often disappears.
Obtained
Diamond and Pearl
Platinum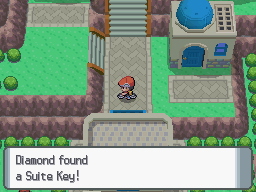 The Suite Key can be found hidden at the resort at Route 213 near Lake Valor.
Uses
A woman at Valor Lakefront lost this key and yearns to have it back. The player has the ability to return it to her.
Ad blocker interference detected!
Wikia is a free-to-use site that makes money from advertising. We have a modified experience for viewers using ad blockers

Wikia is not accessible if you've made further modifications. Remove the custom ad blocker rule(s) and the page will load as expected.