Squirtbottle

( Unknown )


Sprite in Pokemon HeartGold & SoulSilver

General

Buy For:

Cannot be bought

Sell For:

Cannot be sold

Type:

No type

Generation:

II

Description

| | |
| --- | --- |
| This item did not appear in any previous games. | VI |
The Squirtbottle is a key item in Johto that allows you to water plants. The Squirtbottle is obtained by talking to the receptionist at the flower shop in Goldenrod City only after defeating Whitney the Goldenrod City Gym Leader. It is used to move the Sudowoodo on Route 36 leading to Ecruteak City. You can also water planted berries.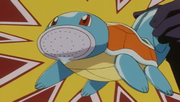 Locations
Edit