This article is missing an image.
Please help the Pokémon Wiki by adding one.
Spring Path
is a place in Route 214 that can only be found if you have your
National Dex
.  However, in Pokémon Platinum, the player may use this path to get back after escaping the
 Distortion World
.  If you keep walking you will be in
Sendoff Spring
, which is where
Turnback Cave
is, which is home to many high-leveled and/or rare Pokémon including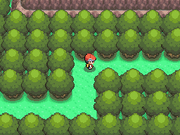 the legendary Pokémon,
Giratina
.
Ad blocker interference detected!
Wikia is a free-to-use site that makes money from advertising. We have a modified experience for viewers using ad blockers

Wikia is not accessible if you've made further modifications. Remove the custom ad blocker rule(s) and the page will load as expected.