Spore (キノコのほうし Mushroom Spore) is a Grass-type move introduced in Generation I. It was the signature move of Paras and Parasect until Generation III.
In BattleEdit
The user scatters bursts of spores that induce sleep.
Badly startles those that have made appeals.
Super ContestsEdit
Lowers the Voltage of all judges by one each.
By Leveling UpEdit
By Leveling UpEdit
By Leveling UpEdit
By Leveling UpEdit
By Leveling UpEdit
Spore depicted in the previous games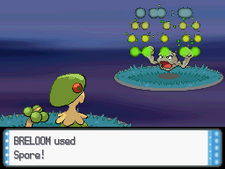 Breloom using Spore