Spore (キノコのほうし Mushroom Spore) is a Grass-type status move introduced in Generation I. It was the signature move of Paras and Parasect until Generation III.
Description
The user scatters bursts of spores.
Effect
In Battle
It causes the target to fall asleep.
Contests
Badly startles those that have made appeals.
Super Contests
Lowers the Voltage of all judges by one each.
Contest Spectaculars
Startles all the Pokémon to act before the user.
Learnset
By Leveling Up
Gallery
Spore depicted in the previous games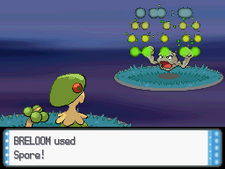 Breloom using Spore