Spewpa is the evolved form of Scatterbug and the Pre-evolved form of Vivillon. It was introduced in Generation VI.
Description
Spewpa gains a stiff carapace once it evolves from Scatterbug, so less forceful attacks will hardly make a scratch.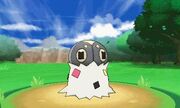 Etymology
Spewpa is most likely derived from the word "spew" and "pupa". The "spew" references the "spewing" of insects, and "pupa" because it is in a shell-like form, as well as being evolved from Scatterbug and the pre-evolution of Vivillon.
Origin
Trivia