This article needs the latest image.
Reason: "Gen IV image in use".
Spacial Rend (あくうせつだん Subspace Tear) is a Dragon-type move introduced in Generation IV. It is the signature move of Palkia.
Effect
In Battle
The user tears the foe along with the space around it. This move has a high critical-hit ratio.
Super Contests
Earns +2 if the Judge's Voltage goes up.
Contest Spectacular
Earns +6 but becomes easily startled.
Learnset
Generation IV
By Leveling Up
By Event
By Event
Pokémon
type
Obtained in
Darkrai

Dark

10th Movie
Arceus

Normal

12th Movie
* Bold indicates a Pokémon which receives STAB from this move
Generation V
By Leveling Up
By Leveling Up
Pokémon
type
Level
Palkia

Water

/

Dragon

46
* Bold indicates a Pokémon which receives STAB from this move
Generation VI
By Leveling Up
By Leveling Up
Pokémon
type
Level
Palkia

Water

/

Dragon

46
* Bold indicates a Pokémon which receives STAB from this move
Gallery
Moves in the anime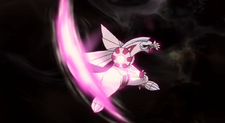 Palkia using Spacial Rend