Skyla's Unfezant
Fuuro's Kenhallow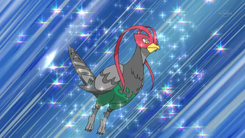 Skyla's Unfezant is an Unfezant belonging to Skyla, the Gym Leader of the Mistralton City Gym.
BiographyEdit
It was used into two battles. However, it was defeated by Cilan's Crustle and later on lost against Ash's Pikachu.
Known movesEdit
In the games and in the manga, Skyla's Unfezant was female, but it was male in the anime.