Skyla's Swoobat
Fuuro's Kokoromori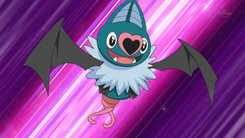 Skyla's Swoobat is a psychic/flying-type Pokémon that belongs to Skyla of the Mistralton City Gym.
BiographyEdit
It defeated Cilan's Pansage in their battle but lost to his Crustle. It later on won against Ash's Krokorok in an official gym match. However, it was defeated by Ash's Tranquill.
Known movesEdit
This article is missing an image.
Please help the Pokémon Wiki by adding one.