Ad blocker interference detected!
Wikia is a free-to-use site that makes money from advertising. We have a modified experience for viewers using ad blockers

Wikia is not accessible if you've made further modifications. Remove the custom ad blocker rule(s) and the page will load as expected.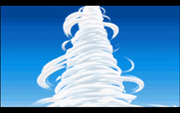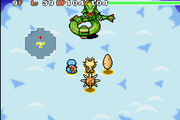 Sky Tower (Japanese: てんくうの とう Sky Tower) is a dungeon in the Pokémon Mystery Dungeon Red Rescue Team and Blue Rescue Team games. It is a tower of clouds, and is where the player must battle Rayquaza in order to save the planet.
The main body of Sky Tower consists of 25 floors, and after a save point is followed by the Sky Tower Summit, which has 9 floors, with Rayquaza on the 9th floor. The player and their partner must battle Rayquaza in order to convince it to help them destroy the approaching meteor that is the cause of all the natural disasters that had occurred.
In the main storyline, the Teleport Gem is used to the reach Sky Tower, but after completion of the main storyline, Fly must be used to get to Sky Tower for missions.
The Pokémon found at Sky Tower are as follows:
Sky Tower - Main
| | | |
| --- | --- | --- |
| No. | Name | Floors Found on |
| #292 | Shedinja | 1-5 |
| #353 | Shuppet | 1-6 |
| #205 | Forretress | 1-6 |
| #284 | Masquerain | 1-8 |
| #337 | Lunatone | 1-11 |
| #355 | Duskull | 7-14 |
| #109 | Koffing | 9-16 |
| #166 | Ledian | 10-18 |
| #338 | Solrock | 12-20 |
| #334 | Altaria | 12-19 |
| #212 | Scizor | 16-21 |
| #356 | Dusclops | 17-23 |
| #049 | Venomoth | 20-25 |
| #142 | Aerodactyl | 21-25 |
| #330 | Flygon | 21-25 |
| #357 | Tropius | 22-25 |
Sky Tower - Summit
| | | |
| --- | --- | --- |
| No. | Name | Floors Found on |
| #357 | Tropius | 1-8 |
| #142 | Aerodactyl | 1-8 |
| #344 | Claydol | 1-8 |
| #330 | Flygon | 1-8 |
| #376 | Metagross | 1-8 |
| #373 | Salamence | 1-8 |
| #384 | Rayquaza | 9 (Boss) |