Ad blocker interference detected!
Wikia is a free-to-use site that makes money from advertising. We have a modified experience for viewers using ad blockers

Wikia is not accessible if you've made further modifications. Remove the custom ad blocker rule(s) and the page will load as expected.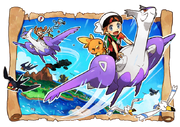 Sky Encounters is a new feature in Pokémon Omega Ruby and Alpha Sapphire accessed from the Eon Flute which allows Mega Latios and Mega Latias to fly.
Wild Pokémon
While flying in the sky, the player can encounter bird-type Pokémon that are flying around. Once interacting with the Pokémon, a battle starts, and the player is able to catch the Pokémon. The level of the Pokémon ranges between 40 and 50.
This is a list of the Pokémon that can be encountered:
Omega Ruby
Via Lake Guardians
Via Dialga and Palkia
Via Castform
Via Tornadus and Thundurus
Alpha Sapphire
Via Lake Guardians
Via Dialga and Palkia
Via Castform
Via Tornadus and Thundurus