Route 201 is located at the north of Twinleaf Town, west of Sandgem Town and east of Verity Lakefront. You can battle the Pokémon the first time but cannot catch it.
Pokémon AppearancesEdit
The higher the percentage, the higher the chance for the Pokémon to appear.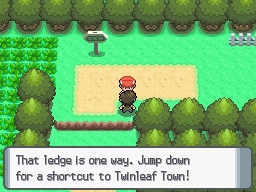 There are many ledges in Sinnoh. You can jump down to get to your desired destination faster, but take notice that once you jump down, you can't jump back up.
Quick WalkthroughEdit
Route 201 → Sandgem Town → Twinleaf Town → Route 202 → Jubilife City → Route 203 → Oreburgh Gate → ...