Ad blocker interference detected!
Wikia is a free-to-use site that makes money from advertising. We have a modified experience for viewers using ad blockers

Wikia is not accessible if you've made further modifications. Remove the custom ad blocker rule(s) and the page will load as expected.
Like most other regions, Sinnoh also has a wide array of Gyms that trainers can battle to obtain badges and to be able to qualify for battle and face the Elite Four. The Sinnoh Gym Leaders are Roark, Gardenia, Maylene, Crasher Wake, Fantina, Byron, Candice, and Volkner. As you can see, the Gym in Eterna, Veilstone, and Hearthome were remodeled and enhanced with new features in from Diamond and Pearl to Platinum. Also in Platinum, some of the Gym Leaders have more powerful Pokémon than in Diamond/Pearl. Sometimes to get stronger in Platinum after you beat the Pokémon League, you can go to the Battle Zone where the Survival Area is to rebattle the Gym Leaders.
1st Gym - Oreburgh City
Diamond/Pearl
Platinum
Pokémon
Level
Pokémon
Level
Geodude
Lv. 12
Geodude
Lv. 12
Onix
Lv. 12
Onix
Lv. 12
Cranidos
Lv. 14
Cranidos
Lv. 14
2nd Gym - Eterna City
Diamond/Pearl
Platinum
Pokémon
Level
Pokémon
Level
Cherubi
Lv. 19
Turtwig
Lv. 20
Turtwig
Lv. 19
Cherim
Lv. 20
Roserade
Lv. 22
Roserade
Lv. 22
3rd Gym
Diamond and Pearl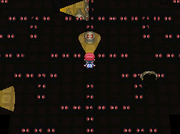 | | |
| --- | --- |
| Pokémon | Level |
| Meditite | Lv. 27 |
| Machoke | Lv. 27 |
| Lucario | Lv. 30 |
Platinum
| | |
| --- | --- |
| Pokémon | Level |
| Duskull | Lv. 24 |
| Haunter | Lv. 24 |
| Mismagius | Lv. 26 |
4th Gym
Diamond and Pearl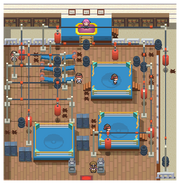 | | |
| --- | --- |
| Pokémon | Level |
| Gyarados | Lv. 27 |
| Quagsire | Lv. 27 |
| Floatzel | Lv. 30 |
Platinum
| | |
| --- | --- |
| Pokémon | Level |
| Meditite | Lv. 28 |
| Machoke | Lv. 29 |
| Lucario | Lv. 32 |
5th Gym
Diamond and Pearl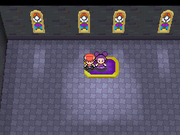 | | |
| --- | --- |
| Pokémon | Level |
| Drifblim | Lv. 32 |
| Gengar | Lv. 34 |
| Mismagius | Lv. 36 |
Platinum
| | |
| --- | --- |
| Pokémon | Level |
| Gyarados | Lv. 33 |
| Quagsire | Lv. 34 |
| Floatzel | Lv. 37 |
6th Gym - Canalave City
Diamond/Pearl
Platinum
Pokémon
Level
Pokémon
Level
Bronzor
Lv. 36
Magneton
Lv. 37
Steelix
Lv. 36
Steelix
Lv. 38
Bastiodon
Lv. 39
Bastiodon
Lv. 41
7th Gym - Snowpoint City
Diamond/Pearl
Platinum
Pokémon
Level
Pokémon
Level
Snover
Lv. 38
Sneasel
Lv. 40
Sneasel
Lv. 38
Piloswine
Lv. 40
Medicham
Lv. 40
Abomasnow
Lv. 42
Abomasnow
Lv. 42
Froslass
Lv. 44
8th Gym - Sunyshore City
Diamond/Pearl
Platinum
Pokémon
Level
Pokémon
Level
Raichu
Lv. 46
Jolteon
Lv. 46
Electivire
Lv. 47
Raichu
Lv. 46
Jolteon
Lv. 48
Luxray
Lv. 48
Luxray
Lv. 49
Electivire
Lv. 50