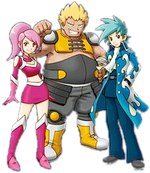 The Sinis Trio is a group comprised of three of the third-highest-ranking members of Team Dim Sun. The team consists of Ice, Lavana, and Heath. Their objective is to collect the Tears of Princes. The leader of the group is Ice. Ice is first met in Almia Castle trying to obtain the Blue Gem, Lavana is first met in the Volcano Cave trying to obtain the Red Gem, and Heath is first met in the Hippowdon Temple trying to obtain the Yellow Gem.
Members
| Members | Pokémon 1 | Pokémon 2 | Pokémon 3 | Task |
| --- | --- | --- | --- | --- |
| | | | | Get the Blue Gem |
| | | | None | Get the Red Gem |
| | | | | Get the Yellow Gem |
Trivia
Heath seems to be a foreigner due to his poor English.
Ad blocker interference detected!
Wikia is a free-to-use site that makes money from advertising. We have a modified experience for viewers using ad blockers

Wikia is not accessible if you've made further modifications. Remove the custom ad blocker rule(s) and the page will load as expected.