Shannon's Hydreigon
Shōbu's Sazandora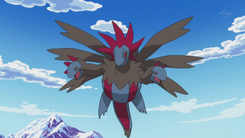 General
Trainer:
Shannon
Ability:
Levitate
Debut:
A Village Homecoming!
Caught where:
Dragon Village
Current location:
With Shannon
Details
Evolved:
Prior to A Village Homecoming when it was an egg and a Deino. Later evolved in the same episode it debuted.
This Hydreigon is a Dark/Dragon-type owned by Iris' old friend Shannon from the Dragon Village.
Biography
This section is completely EMPTY!
Please help the Pokémon Wiki by expanding it.
Known Moves