The
Shadow Triad
is a group of three ninja-like
Team Plasma
subordinates that are only loyal to
Ghetsis
. They don't appear to have any feelings, which is evident at N's Castle when one of them says a bit about N's Playroom, and says that he doesn't feel anything at all when he goes in there.
In the games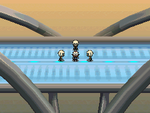 The triad first appeared in
Pokémon Black and White
at
Chargestone Cave
where Ghetsis instructs them to protect
N
, they are then seen in
Icirrus City
and
N's Castle
.
Brycen
finds out they're there, confusing the player,
Cheren
and
Bianca
. (After getting the
Freeze Badge
). They always appear to lead players on to the next Team Plasma event, although they never battled the player and all three look identical.
They make one final appearance after the defeat of Team Plasma; when the player has access to the new areas of the Unova region, the trio will appear on the Marvelous Bridge near Nimbasa City and inform the player that Ghetsis has gone off to another region to rethink his plans. Before departing, they gift him/her with the Lustrous Orb, Adamant Orb and Griseous Orb - the three items that power up Palkia, Dialga and Giratina respectively. They explain they gave the player these items as it was their master's wish. They depart, wondering what to do as Ghetsis has relieved them of active duty under him after this task.
In Black and White Versions 2, they can be battled and re-battled in Icirrus City.
Pokémon Black and White Versions 2
Plasma Frigate
In the manga
In the Pokémon Adventures manga, they are first shown speaking to Ghetsis.
Gallery
Click on the images to enlargen them.
Trivia
The Shadow Triad is irrevocably loyal to Ghetsis, because he once saved all three of their lives.
Their manga appearance is quite similar to the appearance of Mello from the anime/manga series Death Note.
There is a popular fan theory that they are the Striaton Trio; this is not true because in the flashback A Triple Team it shows the Striaton Trio battleing the Shadow Triad.