Serena is the female protagonist from the Pokémon X and Y video game. Her home at the start of the game is Vaniville Town. Her male counterpart is Calem.
In the games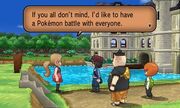 Serena is a girl living in Vaniville Town with her friends Tierno, Trevor, Shauna, and her next door neighbor Calem. The five of them form a bond almost instantaneously and they decide to go on their Pokémon adventures together. 
Appearance
Serena has dark blonde hair with blue-gray eyes and wears a light red hat with white sunglasses. She also wears a black blouse, an orange skirt, black thigh high socks, and black and pink sneakers. She carries around a pink bag with black decals on it.
Trivia
Prior to the official confirmation of her name, media referred to Serena as "Yenna."
She has a very close resemblance to Leaf, the female protagonist from Pokémon FireRed and LeafGreen.