Sealeo

トドグラー Todoggler

Generation III

Evolutionary line
Sealeo (Japanese: トドグラー Todoggler) is a Ice/Water-type Pokémon introduced in Generation III.
Biology
Physiology
Like its evolution,Seoleo is also a sea lion Pokémon.However it doesn't posses the teeth outward.
Evolution
Sealeo evolves from Spheal at level 32 and evolves into Walrein at level 44.
Game info
Game locations
Pokédex entries
Appearances
Anime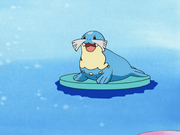 Sealeo made its appearance in The Spheal of Approval! in Slateport city.
Trivia
=Etymology
Word Sealeo ise derieved from sealion.
Sources