Santalune City Gym
(ハクダンジム Hakudan Gym')
Information
Gym Leader:
Viola
Badge:
15px
Type:
Region:
Kalos
City:
Santalune City
The Santalune City Gym is a Gym located in Santalune City and the first Gym in the Kalos region.
Upon entering, the player will notice that the Gym is a photo museum with a pole in the middle. This pole leads to the Gym itself. The gym floor is a giant spider web the player must traverse in order to reach the Gym Leader. Upon entering the web is dew drops on it. Upon landing on the web, most of the dew drops fall of say for a few that shows the challenger the way to the Gym Leader, Viola. Behind Viola is a stairway that leads to a secret entryway back to the top floor of the Gym.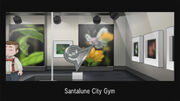 General InformationEdit
Gym Leader Viola
The Santalune Gym differs from the first Gyms of each region as the path to the Gym Leader is not a simple one.
Gym leader Viola is the sister of Alexa.
For those who wish to avoid the other trainers, the trick is to follow the strands of the web that have dew on them.