This article needs the latest image.
Reason: "Gen V in use".
Sacred Sword
Contest Data
Contest Spectaculars (
ORAS
)
| | |
| --- | --- |
| Type: | |
| Appeal: | 1 ♥ |
| Jam: | 1 ♥ |
Sacred Sword is a Fighting-type move introduced in Generation V. It was the signature move of the musketeer quartet until Generation VI.
DescriptionEdit
The user attacks by slicing with its long horns. The target's defense and evasion boosts are ignored.
Generation VEdit
By Leveling UpEdit
Generation VIEdit
By Leveling UpEdit
Aegislash is only non Legendary Pokémon to learn this move.
Although the in-game description of the move says that the user attacks with it's horns. The Honedge Evolutionary line uses this move despite not having any horns.
Sacred Sword depicted in the anime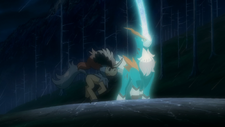 Cobalion using Sacred Sword