Sacred Fire is a Fire-type move introduced in Generation II.
Effect
In Battle
The foe is razed with a mystical fire of great intensity. It may also leave the target with a burn. It will thaw out the user if it is frozen, and then inflict damage on the target.
Contests
A highly appealing move.
Super Contests
Earn +3 if the Pokémon that just went hit max Voltage.
Learnset
By Leveling Up
Trivia
Prior to Generation VI, it was the signature move of Ho-Oh.
Gallery
Sacred Fire depicted in the games
Ho-Oh using Sacred Fire
Sacred Fire depicted in the manga
Ho-Oh using Sacred Fire
Sacred Fire depicted in the anime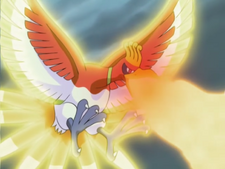 Ho-Oh using Sacred Fire