Roxie is the Poison-type Unova Gym Leader in Unova.
AppearanceEdit
Roxie wears a blue dress with purple stripes and black boots. She has white hair tied in a ponytail and has blue eyes.
PersonalityEdit
BiographyEdit
Black 2 & White 2Edit
In Black 2 and White 2, Roxie is the second Gym Leader the player meets and battles.
Roxie was briefly mentioned in the Adventures manga.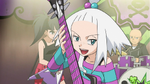 Roxie made her debut in Rocking the Virbank Gym! (Part 1) and was the final Gym Leader Ash Ketchum faced after he heard the Opelucid Gym was closed. She's the lead vocalist and bass player of her band, "Koffing and the Toxics", and she exudes confidence. Unlike other Gym Leaders encountered, she pits her three Pokémon against her opponent's entire team, stating that if her opponent beats her team, she gives them the Toxic Badge.
| | | | |
| --- | --- | --- | --- |
| B2W2 battle sprite | | VS. Sprite | |
| | | | |
Black 2 and White 2Edit
Gym Battle
Driftveil Tournament/Mix Tournament
Pokémon
Information

Koffing is Roxie's first-used Pokémon in her battle against Ash; Roxie comments that she caught it while traveling through Kanto. It was quite powerful, defeating Ash's Boldore and Unfezant, but ultimately fell in battle to Ash's Leavanny.

Koffing
Pokémon
Information

Scolipede easily defeated Ash's Leavanny in battle, but was knocked unconscious by Ash's Pignite.

Scolipede
Roxie's Japanese Gym leader title is "ポイズンライフ ポイズンライブ!".
Roxie is the first Gym leader to make an appearance in the anime before her debut in the games.
Roxie's instrument appears to be designed after the Venipede family.
Roxie's name may be a combination of the music genre "rock" and "toxic" which relates to Poison-type and being in a rock band.
Roxie and the Cianwood Gym Leader Chuck would have their respective episodes as season finales, except Ash won the Storm Badge in one episode while he won the Toxic Badge in the episode after she made her debut.
In the anime, Ash challenged Roxie for his final Unova Badge as opposed to the Opelucid City Gym, which was closed.
Roxie's Whirlipede is underleveled as her Venepede should have evolved at Level 22.
Roxie's Gym, in the Anime, is the only one in Pokémon history to act like a Gym in the game, where you can pit your team against however many Pokémon in the opposing team.
In the real games excluding spin-offs, Roxie and her band are the first to provide vocals: In Japan, where Koffing is known as Dogars, the chant is "D-O-G-A-R-S DOGARS!" This was changed to "P-O-K-E-M-O-N POKEMON" for the English release.
In the anime, Roxie's band is called "Koffing and the Toxics".
Roxie's name in Japanese, (ホミカ, Homika) means Nux vomica, a type of poison tree.
Click on the images to enlargen them.