The image(s) used in this article doesn't/don't meet the Pokémon Wiki's quality standards.
Reason: Low quality scan.
Please feel free to replace it with a higher quality image.
Route 225
is a route in the
Battle Zone
. It can only be accessed when you have the
National Pokédex
.
It connects the Fight Area and the Survival Area.
Description
Route 225 is a long, mountainous route that connects the Fight Area and the Survival Area. Most of the mountains are connected by bridges. On the middle of the route, there is a house and a lake.
Trainers (Diamond and Pearl)
Bird Keeper Audrey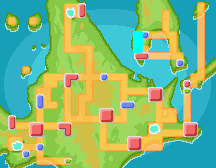 Ad blocker interference detected!
Wikia is a free-to-use site that makes money from advertising. We have a modified experience for viewers using ad blockers

Wikia is not accessible if you've made further modifications. Remove the custom ad blocker rule(s) and the page will load as expected.