DescriptionsEdit
Pokétch No: 19
Basic Info: "The Roulette app can be customized to make an original roulette."
Computer Info: "The Roulette features a wheel that can be written on. Draw numbers, items, or whatever on the wheel and give it a spin!"
It is obtainable from the man in a house in Sunyshore City (requires Rock Climb) if you show him a Pokémon with the Quirky nature.
You must have the Dot Artist app.

It is like an original roulette.
You can draw within the circle.
Press the 'Play' button to start spinning the arrow.
Press the 'Stop' button to stop the arrow from spinning.
Press the 'C' (cancel) button to remove the drawings you draw.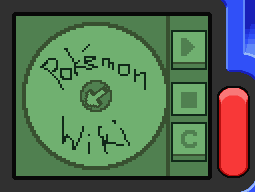 This page is under construction.
A not defined user is improving this page. Therefore please refrain from editing temporarily until the page is finished. Please excuse the informal page. We hope to have the page completed as soon as possible.
Remember to remove this template when the page is complete.