"Welcome! This is the Oreburgh Pokémon Gym! I'm Roark, the Gym Leader! I'm but one Trainer who decided to walk proudly with Rock-type Pokémon! As the Gym Leader, I need to see your potential as a trainer. And, I'll need to see the toughness of the Pokémon that battle with you!"
— Roark, Pokémon Diamond, Pearl and Platinum.
Roark (ヒョウタ Hyouta) serves as the Gym Leader for Oreburgh City's Gym. Raork specializes in using Rock-type Pokémon, and holds the Coal Badge for the trainers who defeat him.
In the games
Roark is the Oreburgh City Gym Leader in Pokémon Diamond and Pearl. When he's not at the Gym, he is the Oreburgh Mine's safety supervisor. Roark's specialty is Rock-Type Pokémon. He also uses a Fossil Pokémon, Cranidos.
If a player defeats him they will obtain the Coal Badge and TM76 (Stealth Rock). The Coal Badge will also give the player the ability to use Rock Smash outside of a battle.
Sprites
| | | | | | | | |
| --- | --- | --- | --- | --- | --- | --- | --- |
| DP battle sprite | | Pt battle sprite | | Vs. Sprite | | B2W2 battle sprite | |
| | | | | | | | |
In the anime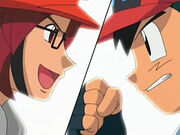 Roark first appeared in the episode
Shapes of Things to Come
where both
Paul
and
Ash
show up at his Gym for a battle. Since Paul was the first to show up he was able to battle Roark first.
Roark, using a team of Geodude, Onix and Cranidos battled Paul's team of Azumarill, Chimchar and Elekid. Roark's strong abilities were shown as he was able to defeat two of Paul's Pokémon, though his Cranidos was unable to withstand Elekid's power leaving Paul the victor.
In the next episode A Gruff Act to Follow, Ash battled Roark the day after Paul's battle. Using a team of Pikachu, Turtwig, and Aipom, Ash battled his way through Roark's team. In the end though, Ash was defeated by Roark and would need to challenge him again.
In O'er the Rampardos we Watched, Ash would have a rematch with Roark using the same Pokémon. Roark's newly evolved Rampardos proved to be difficult but was defeated by Turtwig. With Roark's defeat, Ash had earned his Coal Badge.
In the manga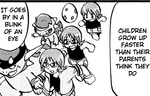 He battled against Platinum and lost. He is also mentioned by Byron in the manga.
Pokémon
Roark's Pokémon are the same in both the anime and Pokémon Diamond and Pearl with the exception of his Rampardos, which evolved from a Cranidos in the anime.
In the games
Diamond and Pearl
Platinum
First battle
Rematch
Black 2 and White 2
Rematch
Black 2 and White 2
Rock-type Tournament
Sinnoh Gym Leader Tournament/World Leaders Tournament
In the anime
Pokémon
Information
Geodude was Roark's weakest Pokemon but was still quite strong.
Geodude
Pokémon
Information
Onix was Roark's second most used Pokemon and a formidable opponent.
Onix
Pokémon
Information
Rampardos was Roark's main Pokemon and his most powerful fighter.
Cranidos→Rampardos
Gallery
Voice Actors
Czech: Pavel Tesar
French (Europe): David Macaluso
Portuguese (Brazil): Sergio Corsetti, Yuri Chesman
Spanish: Cholo Moratalla
Iberian Spanish: Ricardo Mendoza
Trivia
Roark's Coal Badge resembles his mining helmet.
Roark is the third Gym Leader to specialize in Rock Pokémon.
Roark is the son of Byron.
Roark's grandfather is the Underground Man.
Roark's name may be derived from the word ROCK, like Brock's and Roxanne's name because he trains Rock-type Pokémon.
Roark is one of few Gym Leaders who had their Pokémon evolve in the anime. Others include Brock, Sabrina, Koga, Clair, Brawly, Wattson, Flannery, and Cilan.
Roark has the same hairstyle (and about the same color) as Silver in Pokémon HeartGold and SoulSilver.