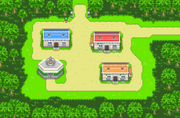 Ringtown is a small village in the west of the Fiore region. It is named after the season Spring due to its spring-like climate. Ringtown is the smallest town in the region.
Notable Areas
Ringtown is famous for its Grassland Challenge in the Kisara Plains which is east of the town. Here, the player can ride on a Doduo and catch Pokémon in the huge grassland. To the north of Ringtown is Lyra Forestw hich ends up to Krokka Tunnel. Not much else is in Ringtown.
Ad blocker interference detected!
Wikia is a free-to-use site that makes money from advertising. We have a modified experience for viewers using ad blockers

Wikia is not accessible if you've made further modifications. Remove the custom ad blocker rule(s) and the page will load as expected.