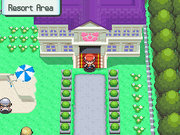 In Sinnoh games, once you reach the resort area, you will find a building called the Ribbon Syndicate. In order to get in, each Pokémon in your party must have at least two ribbons. Inside the building, once the lady in the front lets you in, you will see that there are two floors. On the first floor, you can buy exclusive ribbons that you can't get anywhere else. On the second floor, you can massage your Pokémon. Giving them massages makes them more friendly, but you can only do one a day.
Ad blocker interference detected!
Wikia is a free-to-use site that makes money from advertising. We have a modified experience for viewers using ad blockers

Wikia is not accessible if you've made further modifications. Remove the custom ad blocker rule(s) and the page will load as expected.