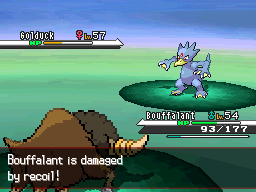 Recoil is damage taken by the user, upon using certain moves. Often stronger moves (Such as Brave Bird) will cause Recoil. The amount of recoil taken by the user depends on the strength of the move.
Some Abilities affect the outcome of a recoil move. Like Rock Head and Reckless. Most of the recoil damage is based on a fraction of the damage the opponent took (for example, Head Charge does 1/4th the recoil damage the opponent took). Most of these moves are in league with the strongest moves available for that level. Head Charge is learned by Bouffalant at level 31, and has a base power of 120. Take Down is learned by a lot of Pokémon at a lower level (usually in the 10s) and has a base power of 90.
Gallery
Ad blocker interference detected!
Wikia is a free-to-use site that makes money from advertising. We have a modified experience for viewers using ad blockers

Wikia is not accessible if you've made further modifications. Remove the custom ad blocker rule(s) and the page will load as expected.