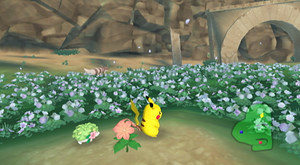 The Flower Zone is a flower-based field in PokéPark Wii: Pikachu's Adventure. It is accessible after beating Salamence's Air Ace in Granite Zone. Only a few Pokémon inhabit this zone, including Shaymin and Rayquaza.
Story
Once Pikachu has entered the Flower Zone, Pikachu can speak to Mareep whom will inform that Rayquaza can be called upon if you have the mirror. The mirror is located on the top floor of the tree house in the Meeting Place. Upon returning it on the mirror's pedestal, Rayquaza will appear. Pikachu can now play Rayquaza's Balloon Panic. Upon beating the attraction, Pikachu will need to speak to Shaymin. Shaymin will ask for a watering can to allow the Gracidea Flower to bloom; the watering can can be obtained from Bellossom. Once the flower has bloomed, Shaymin will change to its Sky-Forme and guide you to Sky Pavilion.
Inhabitants
Attraction
Rayquaza's Balloon Panic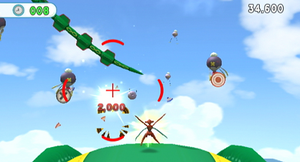 The attraction in the Flower Zone is Rayquaza's Balloon Panic. The goal of Balloon Panic is to aim for the rings for the first round and shoot balloons in the second round.
The first round has the Pokémon navigate through the robotic Rayquaza jumping for the rings while avoiding the Voltorb and Electrode obstacles, otherwise the player will lose 100 or 300 points, respectively.
To move around, tilt the Wii remote left or right.
To jump, use the "2" button.
In the second round, Drifloon, Drifblim, and Rayquaza appear strolling along the screen carrying target signs. Each Pokémon carry a different value target - Blue is worth 100 points, Red is 300, and Gold is 1,000. Occasionally, the Pokémon will also bring out an "X" target that should be avoided.
To shoot the target signs, point the Wii remote to the screen and press the "A" button.
Pokémon
| Number | Pokémon | Target Score |
| --- | --- | --- |
| -- | Pikachu | 15,000 |
| P-002 | Chikorita | 20,000 |
| P-040 | Totodile | 22,000 |
| P-046 | Floatzel | 32,000 |
| P-061 | Mamoswine | 34,000 |
| P-067 | Glaceon | 42,000 |
| P-103 | Infernape | 33,000 |
| P-118 | Rhyperior | 29,000 |
| P-131 | Breloom | 27,000 |
| P-137 | Luxray | 40,000 |
| P-166 | Absol | 28,000 |
| P-171 | Cyndaquil | 23,000 |
| P-172 | Mareep | 24,000 |
| P-174 | Lucario | 45,000 |
| P-178 | Mime Jr. | 17,000 |
| P-193 | Deoxys | 54,000 |