Ramos
Talk

0
8,883pages on
this wiki
Ramos


(Fukuji)


"The old growth is still in bloom!"
General
Hometown
Coumarine City
Region
Kalos
Family
 ?
Badge
Plant Badge
Preferred Type

Grass

Friends

?

First Appearance

Pokemon X and Y (Games)

Voice actor

?

Class:
Gym Leader
Ramos is a Gym Leader appears in Pokémon X and Y. He gives player the Plant Badge after they defeat him.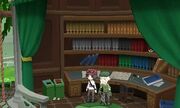 Pokémon
In the Anime
Trivia
Ramos and Erika are the fourth gym leader from their respective regions that the player faces, use Grass-type Pokémon and use members of the Bellsprout evolutionary line.
Ramos is the second male grass type Gym Leader. The first was Cilan.
At first glance, one would assume Ramos is holding a cane modeled after the Plant Badge (due to his age); however, what he's actually holding is hedge trimmers.