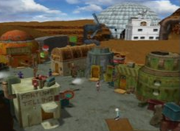 Pyrite Town is a town in Orre that is known for its dark atmosphere.
In Pokémon ColosseumEdit
During the events of Pokémon Colosseum, Pyrite Town was ruled by Cipher, with the administrator in charge being Miror B.
In Pokémon XD: Gale of DarknessEdit
In Pokémon XD: Gale of Darkness, it becomes the headquarters of the ONBS, formerly known as the Kids Grid Network.