This article needs the latest image.
Reason: "Gen V image in use".
Psywave is a Psychic-type move introduced in Generation I.
In BattleEdit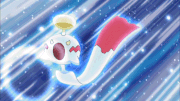 The foe is attacked with an odd, hot energy wave. The attack varies in intensity.
Badly startles all Pokémon that made good appeals.
Super ContestsEdit
A basic performance using a move known by the Pokémon.
By Leveling UpEdit
By Leveling Up
Pokémon
type
Level
Misdreavus
Ghost
1
* Bold indicates a Pokémon which receives STAB from this move
By BreedingEdit
By Leveling UpEdit
By BreedingEdit
By Leveling UpEdit
By BreedingEdit
By Leveling UpEdit
By BreedingEdit
By Leveling UpEdit
By BreedingEdit