Ad blocker interference detected!
Wikia is a free-to-use site that makes money from advertising. We have a modified experience for viewers using ad blockers

Wikia is not accessible if you've made further modifications. Remove the custom ad blocker rule(s) and the page will load as expected.
Psywave is a Psychic-type move introduced in Generation I.
Effect
In Battle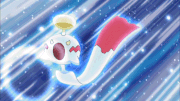 The foe is attacked with an odd, hot energy wave. The attack varies in intensity.
Contests
Badly startles all Pokémon that made good appeals.
Super Contests
A basic performance using a move known by the Pokémon.
Learnset
By Leveling Up
By Leveling Up
Pokémon
type
Level
Misdreavus

Ghost

1
* Bold indicates a Pokémon which receives STAB from this move
By Breeding
By Leveling Up
By Breeding
By Leveling Up
By Breeding
By Leveling Up
By Breeding
By Leveling Up
By Breeding
Gallery
Main article: Psywave/Gallery