"Pokémon have many experiences in their lives, just like we do. I, too, have seen and suffered much in my life. Since I am your elder, let me show you what I mean. I have been with Pokémon since before you were born. I do not lose easily. I, Pryce--the winter trainer-- shall demonstrate my power!"
— Pryce in Gold, Silver and Crystal
Pryce is the seventh Gym Leader in the Johto Region. He trains Ice type Pokémon in both the anime and the video games. In the video games, the player gets to battle him after you solve the Team Rocket problem in Mahogany Town. He will award the player the Glacier Badge if you defeat him.
AppearanceEdit
| | |
| --- | --- |
| This article or section is empty. Please help the Pokémon Wiki by expanding it. | |
PersonalityEdit
| | |
| --- | --- |
| This article or section is empty. Please help the Pokémon Wiki by expanding it. | |
BiographyEdit
Gold, Silver and CrystalEdit
HeartGold & SoulSilverEdit
AdventuresEdit
Main article: Pryce (Adventures)
Main article: Pryce (anime)
Season 4: Johto League ChampionsEdit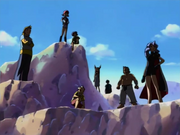 Pryce, among other Johto Gym Leaders, appears in the opening scene of Pokémon: Johto League Champions.
Season 5: Master QuestEdit
Pryce was a champion Trainer in his youth, but was severely burned in a battle. While he was bedridden, his Piloswine went out the door during a severe snow storm and never came back, believeing it abandoned him and became cold-hearted. Because of this, he refused to fight Ash thinking him to be a weak Trainer. When Ash compelled him to a battle, Pryce finally accepted, but he beat Ash's Phanpy using his Dewgong.
When Ash again tried to talk Pryce into a battle, they stumbled onto a cave where they found Pryce's Piloswine frozen in ice. It had some plants that aided in the healing of burns, so Pryce realized Piloswine was frozen when it was searching for berries. Piloswine was defrosted and on being reunited with Piloswine, Pryce lost his cold-heartedness.
The next morning, Ash battled Pryce in a gym battle. After a fierce battle, Pryce forfeited as his Piloswine became tired and he knew it would serve no purpose to keep going.
Gold, Silver and CrystalEdit
HeartGold and SoulSilverEdit
Black 2 and White 2Edit
Stadium 2Edit
Pokémon
Information

Until Pryce was reunited with his Piloswine, Dewgong was his main Pokémon. It was a swift, nible Pokémon, though was defeated by Ash's Cyndaquil.

Dewgong
Pokémon
Information

Piloswine was Pryce's main Pokemon. It was separated from Pryce for many years because it was frozen in ice. When they were reunited, Pryce used Piloswine in his Gym battle with Ash.

Piloswine
Episode appearancesEdit
Voice ActorsEdit
Polish: Krzysztof Zakrzewski
Spanish: Julio Nunez, Eduardo Del Hoyo (child)
Iberian Spanish: Cesar Arias, Carlos Hugo Hidalgo (child)
Pryce's name is a play on the word ICE, seeing as he is an Ice-type trainer.
In his Generation II sprite he was seen wearing a short-sleeved shirt with stripes, but in the anime his shirt didn't have stripes. His Generation IV artwork and sprite show him to dress more appropriately for the coldness in his gym with a slight resemblance to the clothes he wore in the anime during his youth.
Despite Pryce being the 7th gym leader in Johto, the levels of his Pokémon are actually lower than the 6th gym leader, Jasmine's Pokémon.
In the manga, Pryce is in a wheel chair, unlike his anime and game counterpart where he's able to walk, but with a cane.
His appearance is also somewhat similar to the famed actor Jonathan Pryce.