Professor Elm is the renowned Pokémon professor of Johto. He lives in New Bark Town with his wife and son in a house south of his laboratory (the second floor of his lab in Pokémon HeartGold and SoulSilver). Professor Elm lets you choose a Chikorita, Cyndaquil, or a Totodile as a starter Pokémon. He initially discovered that Pokémon can lay eggs. He is considered the best professor when it comes to researching Pokémon evolution.
Appearance
Edit
Personality
Edit
Biography
Edit
Gold, Silver & Crystal
Edit
He is the Professor of the Johto region, and is described as "a little scatter brained and disorganized" by his wife. In Platinum, a hiker in Hearthome City that in Diamond and Pearl previously gave you an egg containing Happiny, mentions him and Elm being great friends.
He is the featured professor in the Generation II games (Gold, Silver, and Crystal) and their Generation IV remakes (HeartGold and Soul Silver).
HeartGold & SoulSilver
Edit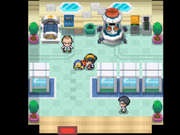 Adventures
Edit
Main article: Professor Elm (Adventures)
Main article: Professor Elm (anime)
Elm appeared as a hotheaded professor, who let Team Rocket (from which he believed Jessie to be Nurse Joy) to take care of his Pokémon. This caused them to steal Totodile and run off it with. Elm requested help from the police, which got the curiosity of Ash, Misty and Brock, who defeated Team Rocket and gave him Totodile back. Elm reported this event to Professor Oak, his former teacher.
G/S/C/HG/SS
Edit
Starter Pokémon
He is the only professor that doesn't welcome you to the world of Pokémon, as Professor Oak was the greeter in Gold, Silver, Crystal, HeartGold and SoulSilver.
In the anime, he's one of Professor Oak's former students and is a huge fan of his former teacher.