Lorelei's Dewgong
Talk

0
9,716pages on
this wiki
Lorelei's Dewgong
Kanna's Jugon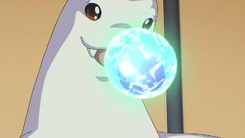 Lorelei's Dewgong is a water/ice-type Pokémon owned by Lorelei.
Biography
Games
Main article: Lorelei#Pokémon
Lorelei owned a Dewgong in all main Pokémon games. It debuted in Pokémon Red and Green, being at Lv. 54 and knowing Growl, Aurora Beam, Rest and Take Down.
Anime
Main series
Not much is known about Prima's Dewgong, as it has only been seen briefly during Prima's lecture, where it defeated an unnamed Trainer's Marowak.
Pokémon Origins
| | |
| --- | --- |
| This article or section is empty. Please help the Pokémon Wiki by expanding it. | |
Manga
Yellow arc
Dewgong debuted in Yellow arc, when it, along with Cloyster, were attacking using frozen spikes to defeat Yellow and Bill.
Known moves
Anime
Main series
Pokémon Origins
Manga
| | |
| --- | --- |
| This article is missing an image. Please help the Pokémon Wiki by adding one. | |