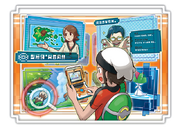 The PokéNav Plus is an obtainable key item in Pokémon Omega Ruby and Alpha Sapphire. It includes the PlayNav, DexNav, AreaNav, and BuzzNav.
Production
Functions
Map
Condition
Party Pokémon
Gallery
Ad blocker interference detected!
Wikia is a free-to-use site that makes money from advertising. We have a modified experience for viewers using ad blockers

Wikia is not accessible if you've made further modifications. Remove the custom ad blocker rule(s) and the page will load as expected.