Pokémon the Series: XY is the seventeenth overall season and the first season of the Pokémon XY series. It features Ash Ketchum and Pikachu as they venture into the Kalos region where they meet new friends, Clemont and Bonnie, and where Ash reunites with his childhood friend, Serena. Ash will catch new Kalos Pokémon, and make new rivals along the way to compete in the Kalos League and learning about the secrets of Mega Evolution. It began airing in Japan in October 2013 and North America on 18th January, 2014.
Major Characters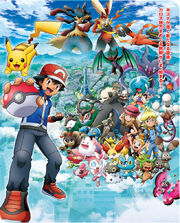 Humans
Pokémon
Others
Episodes
#
Ep Code
Title
Image
802
XY001
Kalos, Where Dreams and Adventures Begin!
カロス地方にやってきた!夢と冒険のはじまり!!
We've Arrived in the Kalos Region! The Beginning of Dreams and Adventures!!
:October 17, 2013
: October 19, 2013 (Special preview)
: January 18, 2014 (in sequence)

803
XY002
Lumiose City Pursuit!
メガシンカとプリズムタワー!
Mega Evolution and the Prism Tower!
:October 17, 2013
: October 19, 2013 (Special preview)
: January 25, 2014 (in sequence)

804
XY003
A Battle of Aerial Mobility!
ケロマツVSヤヤコマ!空中起動バトル!!
Froakie VS Fletchling! Aerial Battle Maneuvers!!
:October 24, 2013
: February 1, 2014

805
XY004
A Shockingly Cheeky Friendship!
ピカチュウとデデンネ!ほっぺすりすり!!
Pikachu and Dedenne! Nuzzle!!
:October 31, 2013
: February 8, 2014

806
XY005
A Blustery Santalune Gym Battle!
ハクダンジム戦!華麗なるビビヨンの舞バトル!!
The Santalune Gym Battle! The Magnificent Vivillon's Dance Battle!!
:November 7, 2013
: February 15, 2014

807
XY006
Battling on Thin Ice!
氷上決戦! ピカチュウVSビビヨン!!
Decisive Battle on the Ice! Pikachu VS Vivillon!!
:November 14, 2013
: February 22, 2014

808
XY007
Giving Chase at the Rhyhorn Race!
セレナにおまかせ!?激走サイホーンレース!
Leave it to Serena!? The Exciting Rhyhorn Race!
:November 21, 2013
: March 1, 2014

809
XY008
Grooming Furfrou!
ポケモントリマーとトリミアン!
Pokémon Trimmer and Furfrou!
:November 28, 2013
:March 8, 2014

810
XY009
Clemont's Got a Secret!
ミアレジム攻略!シトロンの秘密!!
Capture Lumiose Gym! Clemont's Secret!
:December 5, 2013
:March 15, 2014

811
XY010
Mega-Mega Meowth Madness!
ハリマロンVSメガメガニャース!!
Chespin VS Mega Mega Meowth!!
:December 12, 2013
: March 22, 2014

812
XY011
The Bamboozling Forest!
竹林の追跡!ヤンチャムとゴロンダ!!
Bamboo Forest Chase! Pancham & Pangoro!!
:December 19, 2013
: March 29, 2014

813
XY012
To Catch a Pokémon Monster!
ポケモンバイヤーを捕まえろ!コフーライ偽装作戦!!
Catch the Pokémon Buyer! Spewpa Impersonation Strategy!!
:January 9, 2014
: April 5, 2014

814
XY013
Kindergarten Chaos!
ニンフィアVSケロマツ!幼稚園は大さわぎ!!
Sylveon VS Froakie! Commotion in Kindergarten!!
:January 16, 2014
: April 12, 2014

815
XY014
Seeking Shelter from the Storm!
ぶきみな雨宿り!ニャスパーは見ていた!!
Spooky Shelter! Espurr Watches!!
:January 30, 2014
: April 19, 2014

816
XY015
TBA
ハリマロンVSマフォクシー!ダイエットバトル!?
Chespin VS Delphox! A Diet Battle!?
:February 6, 2014
: TBA

817
XY016
TBA
デデンネがピチューでピチューがデデンネで…!?
Dedenne is Pichu, Pichu is Dedenne!?
:February 13, 2014
: TBA

818
XY017
TBA
ケロマツ対ゲコガシラ!忍者バトル!!
Froakie VS Frogadier! Ninja Battle!!
:February 20, 2014
: TBA

819
XY018
TBA
カビゴンを起こせ!パルファム宮殿でバトルです!!
Wake Up Snorlax! Battle in Parfum Palace!!
:February 27, 2014
: TBA

820
XY019
TBA
マダムXの陰謀!恐怖のカラマネロ!!
Madame X's Evil Plot! The Terrifying Malamar!!
:March 13, 2014
: TBA

821
XY020
TBA
挑戦バトルシャトー!ビオラVSザクロ!!
The Battle Chateau Challenge! Viola VS Grant!!
:March 20, 2014
: TBA

822
XY021
TBA
デビューです!セレナとフォッコでポケビジョン!!
Debut! Serena and Fennekin on PokéVision!!
:March 27, 2014
: TBA

823
XY022
TBA
黄金のコイキングを釣り上げろ!!
Fish up the Golden Magikarp!!
:April 10, 2014
: TBA

824
XY023
TBA
オーロラの絆!アマルスとアマルルガ!!
The Bond of the Aurora! Amarua and Aurorus!!
:April 17, 2014
: TBA

 
Trivia
This is the second season to have a sneak preview. The first was a sneak peek of Pokémon Advanced.
This series include the vs. player overview images before the battle.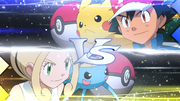 This will be the second time in the Pokémon anime series that two of Ash's traveling companions will be of the older sibling and younger sibling. The first time was with the Pokémon: Advanced Generation with May and Max. But this series will have for the first time, the older brother and younger sister traveling together with Ash and Pikachu, Clemont and Bonnie. With this, it will also be the first time where both of the siblings will be based on their game counterparts. May was based off of hers, but Max never had a direct game counterpart (he was indirectly based on the School Boy trainer class).
This is the first time where a female traveling companion is younger than age 10, which is Bonnie.
See also