Ad blocker interference detected!
Wikia is a free-to-use site that makes money from advertising. We have a modified experience for viewers using ad blockers

Wikia is not accessible if you've made further modifications. Remove the custom ad blocker rule(s) and the page will load as expected.
Pokémon the Series: XY is the seventeenth season of the Pokémon anime, and the first season of the XY series. It features Ash Ketchum and Pikachu as they venture into the Kalos region where they meet new friends, Clemont and Bonnie, and where Ash reunites with his childhood friend, Serena. Ash will catch new Kalos Pokémon, and make new rivals along the way to compete in the Kalos League and learning about the secrets of Mega Evolution. It began airing in Japan in October 17, 2013 and in North America on October 19, 2013 as a sneak preview and on January 18, 2014 in sequence.
Characters
Major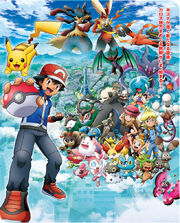 Pokémon
Ash's
Serena's
Clemont's
Team Rocket's
Episodes
#

Ep Code

Title

Image

802
XY001
Kalos, Where Dreams and Adventures Begin!
カロス地方にやってきた!夢と冒険のはじまり!!
We've Arrived in the Kalos Region! The Beginning of Dreams and Adventures!!
: October 17, 2013
: October 19, 2013 (Special Preview)
: January 18, 2014 (In Sequence)

803
XY002
Lumiose City Pursuit!
メガシンカとプリズムタワー!
Mega Evolution and the Prism Tower!
: October 17, 2013
: October 19, 2013 (Special Preview)
: January 25, 2014 (In Sequence)

804
XY003
A Battle of Aerial Mobility!
ケロマツVSヤヤコマ!空中起動バトル!!
Froakie VS Fletchling! Aerial Battle Maneuvers!!
: October 24, 2013
: February 1, 2014

805
XY004
A Shockingly Cheeky Friendship!
ピカチュウとデデンネ!ほっぺすりすり!!
Pikachu and Dedenne! Nuzzle!!
: October 31, 2013
: February 8, 2014

806
XY005
A Blustery Santalune Gym Battle!
ハクダンジム戦!華麗なるビビヨンの舞バトル!!
The Santalune Gym Battle! The Magnificent Vivillon's Dance Battle!!
: November 7, 2013
: February 15, 2014

807
XY006
Battling on Thin Ice!
氷上決戦! ピカチュウVSビビヨン!!
Decisive Battle on the Ice! Pikachu VS Vivillon!!
: November 14, 2013
: February 22, 2014

808
XY007
Giving Chase at the Rhyhorn Race!
セレナにおまかせ!?激走サイホーンレース!
Leave it to Serena!? The Exciting Rhyhorn Race!
: November 21, 2013
: March 1, 2014

809
XY008
Grooming Furfrou!
ポケモントリマーとトリミアン!
Pokémon Trimmer and Furfrou!
: November 28, 2013
: March 8, 2014

810
XY009
Clemont's Got a Secret!
ミアレジム攻略!シトロンの秘密!!
Capture Lumiose Gym! Clemont's Secret!
: December 5, 2013
: March 15, 2014

811
XY010
Mega-Mega Meowth Madness!
ハリマロンVSメガメガニャース!!
Chespin VS the Mega Mega Meowth Machine!!
: December 12, 2013
: March 22, 2014

812
XY011
The Bamboozling Forest!
竹林の追跡!ヤンチャムとゴロンダ!!
Bamboo Forest Chase! Pancham & Pangoro!!
: December 19, 2013
: March 29, 2014

813
XY012
To Catch a Pokémon Smuggler!
ポケモンバイヤーを捕まえろ!コフーライ偽装作戦!!
Catch the Pokémon Buyer! Spewpa Impersonation Strategy!!
: January 9, 2014
: April 5, 2014

814
XY013
Kindergarten Chaos!
ニンフィアVSケロマツ!幼稚園は大さわぎ!!
Sylveon VS Froakie! Commotion in Kindergarten!!
: January 16, 2014
: April 12, 2014

815
XY014
Seeking Shelter from the Storm!
ぶきみな雨宿り!ニャスパーは見ていた!!
Spooky Shelter! Espurr Watches!!
: January 30, 2014
: April 19, 2014

816
XY015
An Appetite for Battle!
ハリマロンVSマフォクシー!ダイエットバトル!?
Chespin VS Delphox! A Diet Battle!?
: February 6, 2014
: April 26, 2014

817
XY016
A Jolting Switcheroo!
デデンネがピチューでピチューがデデンネで…!?
Dedenne is Pichu, Pichu is Dedenne!?
: February 13, 2014
: May 3, 2014

818
XY017
A Rush of Ninja Wisdom!
ケロマツ対ゲコガシラ!忍者バトル!!
Froakie VS Frogadier! Ninja Battle!!
: February 20, 2014
: May 10, 2014

819
XY018
Awakening the Sleeping Giant!
カビゴンを起こせ!パルファム宮殿でバトルです!!
Wake Up Snorlax! Battle in Parfum Palace!!
: February 27, 2014
: May 17, 2014

820
XY019
A Conspiracy to Conquer!
マダムXの陰謀!恐怖のカラマネロ!!
Madame X's Evil Plot! The Terrifying Malamar!!
: March 13, 2014
: May 24, 2014

821
XY020
Breaking Titles at the Chateau!
挑戦バトルシャトー!ビオラVSザクロ!!
The Battle Chateau Challenge! Viola VS Grant!!
: March 20, 2014
: June 7, 2014

822
XY021
A PokéVision of Things to Come!
デビューです!セレナとフォッコでポケビジョン!!
Debut! Serena and Fennekin on PokéVision!!
: March 27, 2014
: June 14, 2014

823
XY022
Going for the Gold!
黄金のコイキングを釣り上げろ!!
Fish up the Golden Magikarp!!
: April 10, 2014
: June 21, 2014

824
XY023
Coming Back into the Cold!
オーロラの絆!アマルスとアマルルガ!!
The Bond of the Aurora! Amarua and Aurorus!!
: April 17, 2014
: June 28, 2014

851
XY024
An Undersea Place to Call Home!
海底の城!クズモーとドラミドロ
Undersea Castle! Skrelp and Dragalge!!
: November 20, 2014
: February 7, 2015

825
XY025
Climbing the Walls!
ショウヨウジム戦!ピカチュウ対チゴラス!!
Cyllage Gym Battle! Pikachu VS Tyrunt!!
: April 24, 2014
: July 5, 2014

826
XY026
A Battle by Any Other Name!
ペロッパフとペロリーム!!甘い戦いはあまくない!?
Swirlix and Slurpuff!! The Sweet Battle isn't a Piece of Cake!?
: May 8, 2014
: July 12, 2014

827
XY027
To Find a Fairy Flower!
フラべべと妖精の花!
Flabébé and the Fairy Flower!
: May 15, 2014
: July 19, 2014

828
XY028
The Bonds of Evolution!
チャンピオン・カルネ登場!霧の中のメガサーナイト!!
Champion Diantha Appears! Mega Gardevoir in the Mist!!
: May 22, 2014
: July 26, 2014

829
XY029
Heroes - Friends and Faux Alike!
ジャジャーン!ニセサトシ現る!
Ta-da! Fake Ash Appears!!
: May 29, 2014
: August 2, 2014

830
XY030
Mega Revelations!
コルニとルカリオ!メガシンカの秘密!!
Korrina and Lucario! The Secret of Mega Evolution!!
: May 29, 2014
: August 9, 2014

831
XY031
The Cave of Trials!
ルカリオVSバシャーモ!試練の洞窟!!
Lucario VS Blaziken! The Cave of Trials!!
: June 5, 2014
: August 16, 2014

832
XY032
The Aura Storm!
メガルカリオ対メガルカリオ!波導の嵐!!
Mega Lucario VS Mega Lucario! The Wave-Guiding Storm!!
: June 12, 2014
: August 23, 2014

833
XY033
Calling from Beyond the Aura!
呼び合う心!波導のむこうへ!!
Hearts Calling to Each Other! To the Other Side of Wave-Guiding!!
: June 19, 2014
: August 30, 2014

834
XY034
The Bonds of Mega Evolution!
メガルカリオVSメガクチート!メガ進化ボンド!
Mega Lucario VS Mega Mawile! The Mega Evolution Bond!!
: July 3, 2014
: September 6, 2014

835
XY035
The Forest Champion!
森チャンピオン!ルチャブルを入力してください!
The Forest Champion! Enter Hawlucha!!
: July 10, 2014
: September 13, 2014

836
XY036
Battles in the Sky!
スカイバトル!?ルチャブル対ファイアロー!!
A Sky Battle!? Hawlucha VS Talonflame!!
: July 24, 2014
: September 20, 2014

837
XY037
The Cave of Mirrors!
うつしみの洞窟!鏡の国のサトシとサトシ!?
Reflection Cave! Mirror World Ash and Ash!?
: July 31, 2014
: September 27, 2014

838
XY038
Forging Forest Friendships!
蠢く森のオーロット!
The Trevenant from the Wriggling Forest!
: August 7, 2014
: October 4, 2014

839
XY039
Summer of Discovery!
ポケモンサマーキャンプ!ライバル3人組登場!!
Pokémon Summer Camp! Enter the Rival Trio!!
: August 14, 2014
: October 11, 2014

840
XY040
Day Three Blockbusters!
セレナvsナナ!ポケビジョン対決!!
Serena VS Shauna! PokéVision Showdown!!
: August 21, 2014
: October 18, 2014

841
XY041
Foggy Pokémon Orienteering!
ポケエンテーリング!霧の中のX!
PokéEnteering! The X in the Mist!
: August 28, 2014
: October 25, 2014

842
XY042
Battling Into the Hall of Fame!
チームバトル!殿堂入りのために競合する!
Team Battle! Competing for the Hall of Fame!
: September 4, 2014
: November 1, 2014

843
XY043
Origins of Mega Evolution!
マスタータワー!メガシンカの歴史!!
Tower of Mastery! The History of Mega Evolution!!
: September 18, 2014
: November 8, 2014

844
XY044
Showdown at the Shalour Gym!
シャラジム戦!ピカチュウVSメガルカリオ!!
Shalour Gym Battle! Pikachu VS Mega Lucario!
: September 25, 2014
: November 15, 2014

845
XY045
Splitting Heirs!
シトロン対ユリーカ!?ニャオニクスできょうだいバトル!!
Clemont vs. Bonnie!? A Sibling Battle With Meowstic!!
: October 2, 2014
: November 22, 2014

846
XY046
The Clumsy Crier Quiets the Chaos!
どじっこプクリンVS暴走ボーマンダ!!
The Clumsy Wigglytuff VS the Rampaging Salamence!
: October 9, 2014
: November 29, 2014

847
XY047
Dreaming a Performer's Dream!
セレナ、初ゲット!?ヤンチャムVSフォッコ!!
Serena's First Capture!? Pancham VS Fennekin!!
: October 16, 2014
: December 6, 2014

848
XY048
A Campus Reunion!
シトロン、想い出のキャンパス!電撃の再会!!
Clemont's Campus of Memories! An Electrifying Reunion!!
: October 23, 2014
: December 13, 2014

849
XY049
Bonnie for the Defense!
出動ラプラス防衛隊!ユリーカがんばる!!
Mobilise, Lapras Defense Corps! Bonnie Does Her Best!!
: October 30, 2014
: December 20, 2014

 
Theme song
Trivia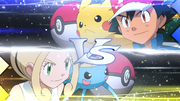 See also