Pokémon Trozei!
Talk

0
7,639pages on
this wiki
Pokémon Trozei!
ポケモントローゼ
Pokémon Trozei! box art.
Game Information
Japan
October 20, 2005
North America
March 6, 2006
Europe
May 5, 2006
South Korea
May 17, 2007
Australia
April 28, 2006
Japanese cover art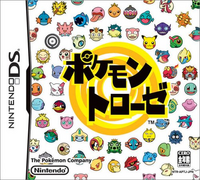 Pokémon Trozei! Japanese box art.
Pokémon Trozei! is a Pokémon puzzle game for the Nintendo DS. You can switch puzzle pieces to create combos. Pokémon Trozei! It is a game of the third generation and still is the third installment of puzzle-type games and being the successor to Pokémon Puzzle Challenge and Pokémon Puzzle League
To advance in this game, the player needs to play the story mode, where he/she will control Lucy Fleetfoot. She is sent by Professor P to stop Team Phobos Battalion, because they have stolen the Poké Balls to use its energy on Phobosfera.
On February 13th, 2014, a sequel titled Pokemon Battle Trozei was announced for release on March 20th 2014.
Gallery