Pokémon Trozei!
Talk

0
10,158pages on
this wiki
Pokémon Trozei!
ポケモントローゼ
Pokémon Trozei! box art.
Release Dates
| | |
| --- | --- |
| Japan | October 20, 2005 |
| North America | March 6, 2006 |
| Europe | May 5, 2006 |
| Australia | April 28, 2006 |
| South Korea | May 17, 2007 |
Japanese cover art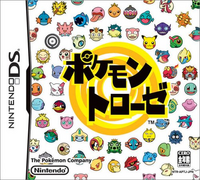 Pokémon Trozei! Japanese box art.
Pokémon Trozei! is a Pokémon puzzle game for the Nintendo DS. You can switch puzzle pieces to create combos. Pokémon Trozei! It is a game of the third generation and still is the third installment of puzzle-type games and being the successor to Pokémon Puzzle Challenge and Pokémon Puzzle League.
To advance in this game, the player needs to play the story mode, where he/she will control Lucy Fleetfoot. She is sent by Professor P to stop Team Phobos Battalion, because they have stolen the Poké Balls to use its energy on Phobosfera.
On February 13th, 2014, a sequel titled Pokémon Battle Trozei was announced for release on March 20th 2014.
Gallery
Videos