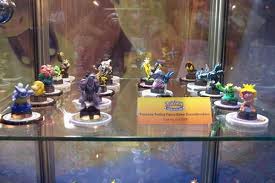 The Pokémon Trading Figure Game was a game very similar to the Pokémon Trading Card game; however, as the name suggests, it uses figures as opposed to cards. The figures were very detailed and were similar in design to chess pieces. The figures were made by the company Kaydioo; however, the game was officially retired on June 2, 2009.
Next Quest
The Next Quest expansion was the first expansion of the Trading Figure Game. It was the only one that fully released. It was released in Europe, Australia, and Southeast Asia in fall 2006, and North America and Japan in 2007.
Sets
Ad blocker interference detected!
Wikia is a free-to-use site that makes money from advertising. We have a modified experience for viewers using ad blockers

Wikia is not accessible if you've made further modifications. Remove the custom ad blocker rule(s) and the page will load as expected.