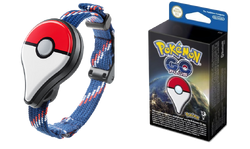 Pokémon GO Plus is an add-on device developed for Pokémon GO that is worn around the wrist. The device connects to the mobile phone, using a Blue tooth connection. The device allows players to participate in Pokémon GO activities without utilizing their phone directly.
It will be released September 16, 2016 in most countries, with the exception of a few South American territories later. [1]
Features
The Pokémon GO Plus will blink and vibrate depending on specific in-game critera, such as when the player approaches a PokéStop or encounters a wild Pokémon. When approaching a Pokestop, players can press the button to search the PokeStop for items, and add them into their inventories.
When a Pokémon is near, the light on the Pokémon GO Plus will flash. Once a Pokémon is close, players can press a button to throw a Poké Ball. Players will only be able to use the Pokemon GO Plus to catch Pokemon if they have caught the Pokemon previously. Upon a successful catch, the device will blink and flash once again. It is different colors too!
References
Ad blocker interference detected!
Wikia is a free-to-use site that makes money from advertising. We have a modified experience for viewers using ad blockers

Wikia is not accessible if you've made further modifications. Remove the custom ad blocker rule(s) and the page will load as expected.