Pokémon Dream Radar

Game Information
Publisher
Nintendo
Developer
Game Freak
Category
Action and Augmented Reality
Players
1
ESRB
Everyone (E)
Release Dates
June 23rd, 2012
October 7th, 2012
October 12th, 2012
Other Info
'Pokémon Dream Radar' (Japanese: ポケモン ARサーチャー Pokemon AR Sāchā, literally meaning; "Pokémon Augmented Reality Searcher") is the second downloadable game in the series and it featured Augmented Reality view to capture Pokémons, collecting Dream Orbs and Items in the Interdream Zone. It can transfer the captured Pokémons and Items to the Pokémon Black and White Versions 2 in the Nintendo 3DS to give the players fill up in their Pokédex.
The main story of the game goes about the legendary trio Tornadus, Thundurus, and Landorus that are shown in their Therian Forme in the game.
The game is not for free unfortunately. You can buy the app for ¥300, $3.75, £2.63 and €3 in the Nintendo eShop.
Plot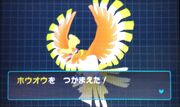 Professor Burnet
is a Pokémon Professor who is researching the three legendary Pokémons:
Tornadus
,
Thundurus
, and
Landorus
. You can help her by making her research complete by collecting Dream Orbs to unlock more extensions, featured and more information about the legendary trio. Also you can upgrade your gadgets to gather Dream Orbs to find more Pokémons and Items, evenly also more Dream Orbs to discover more Pokémons.
Orbs
There are two different colors of Orbs: A pink colored orb and a green colored orb.
| Pink Colored Dream Orb | Green Colored Dream Orb |
| --- | --- |
| 110px | 110px |
Pokémons & Items
Pokémons & Items available from the start
After capturing Tornadus
After capturing Thundurus
After capturing Landorus
Special Extensions
Eureka Extensions
Items appearance using Simulator α, β or γ
External Links
Gallery