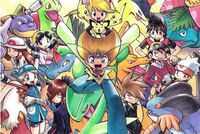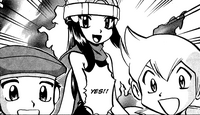 Pokédex Holders in Pokémon Adventures are people who are given the privilege to use a Pokédex by Professors.
Holders
Other
Trivia
Despite being an antagonist, N is often included as one of the Pokédex Holders.
They are sometimes called DexHolders.
Despite the DexHolders being named after the main series games, there are no DexHolders with the following names:

Fire (from FireRed)
Leaf (from LeafGreen)
Heart (from HeartGold)
Soul (from SoulSilver)

 This is likely due to the fact that the first four game titles on the list are remakes of previous titles in the series and not "new" games. Due to this the respective chapters tell about additional adventures of characters who have already been introduced multiple chapters prior, thus not introducing new characters to the series.