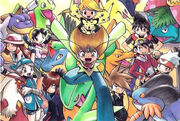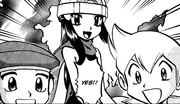 Pokédex Holders in Pokémon Adventures are people who are given the privilege to use a Pokédex by Professors.

Holders
This is a list of the pokedex holders so far as well as their title based on their skill or ability and starter pokemon, under the category of signature pokemon.
Other
Trivia
Despite being an antagonist, N is often included as one of the Pokédex Holders, even though he doesn't have a Pokédex. N also hates the Pokedex.
Wally is not a Pokedex Holder in the manga. In the magazine scan, however, it is stated that he accidentally recorded his name into the Pokedex.
They are sometimes called DexHolders.