This article or section contains information about an upcoming subject.
The content may change dramatically as more information becomes available.
Please do not add unsourced speculation to this article.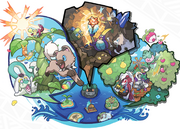 Poké Pelago is a new feature installed inside the PC Box introduced in Generation VII.
Info
From Pokémon.com
In Pokémon Sun and Pokémon Moon, there's a feature known as Poké Pelago, which Pokémon that have been placed in Boxes can enjoy. Poké Pelago consists of a variety of isles where Pokémon can go exploring, play on athletic equipment, and enjoy other fun activities. If you send many Pokémon to Poké Pelago, you can develop the facilities on your isles—and develop new kinds of isles as well. As these isles are developed and increase in number, you'll be able to do things like obtain items or raise your Pokémon.
Gallery